Linear Barcode Verifier 
Looking for a replacement for that old verifier you haven't used in a while? Do they still make those nickel cadmium batteries?
It might be a Symbol or a QuickCheck or one of the others but it is probably not up to the task today. Our SCANALYST 3 linear version is a great choice for a replacement.  (Linear barcodes are those that are made up of vertical lines. Common UPC product barcodes are a great example.)  Some of these linear barcode types have been in use for 40 years! Some of the early verifiers have been around for almost as long and fall short of current technology and current needs.
SCANALYST 3 Linear barcode verifier has everything you need and more.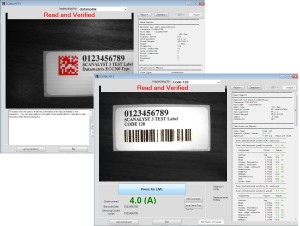 Upgrades – If you want to add 2D capability in the future, SCANALYST 3 Linear barcode verifier can be upgraded to include all the most popular current 2D codes to protect you from obsolescence.
ISO 10 scan average is automatic – Did you know that linear barcode grading requires 10 individual scans to get an average grade?  SCANALYST 3 does this for you automatically!
Checks barcodes for proper GS1 Datastructures
Imager based – You will not have to learn how to perfect your use of the old stylus/pen contact sensor.  SCANALYST 3 takes a high resolution image and does a comprehensive analysis  of the barcode in the image.  That translates to 'easy' and 'accurate' compared to the old style verifiers.
Reports – SCANALYST 3 goes way beyond the old 'printouts' .  We generate easy to read comprehensive detailed reports that are meaningful.  They can be printed on a standard printer.
EMAIL – The same reports can be emailed to your customers or associates right from the SCANALYST 3 interface.
Database – All of the individual ISO parameters plus many other characteristics are stored for your future reference.  This information can be quite useful in developing best practices or choosing the best printing supplies such as labels, ribbons or ink.
Specifications
To view the complete SCANALYST 3 Specifications, Click here.
Price and Availability
Call us for a Free Barcode Verification analysis and system quote! 614-431-3300
Pricing – $2,795
Our SCANALYST 3 Barcode Verifier is available in many configurations.  Click here for a complete list of available options.